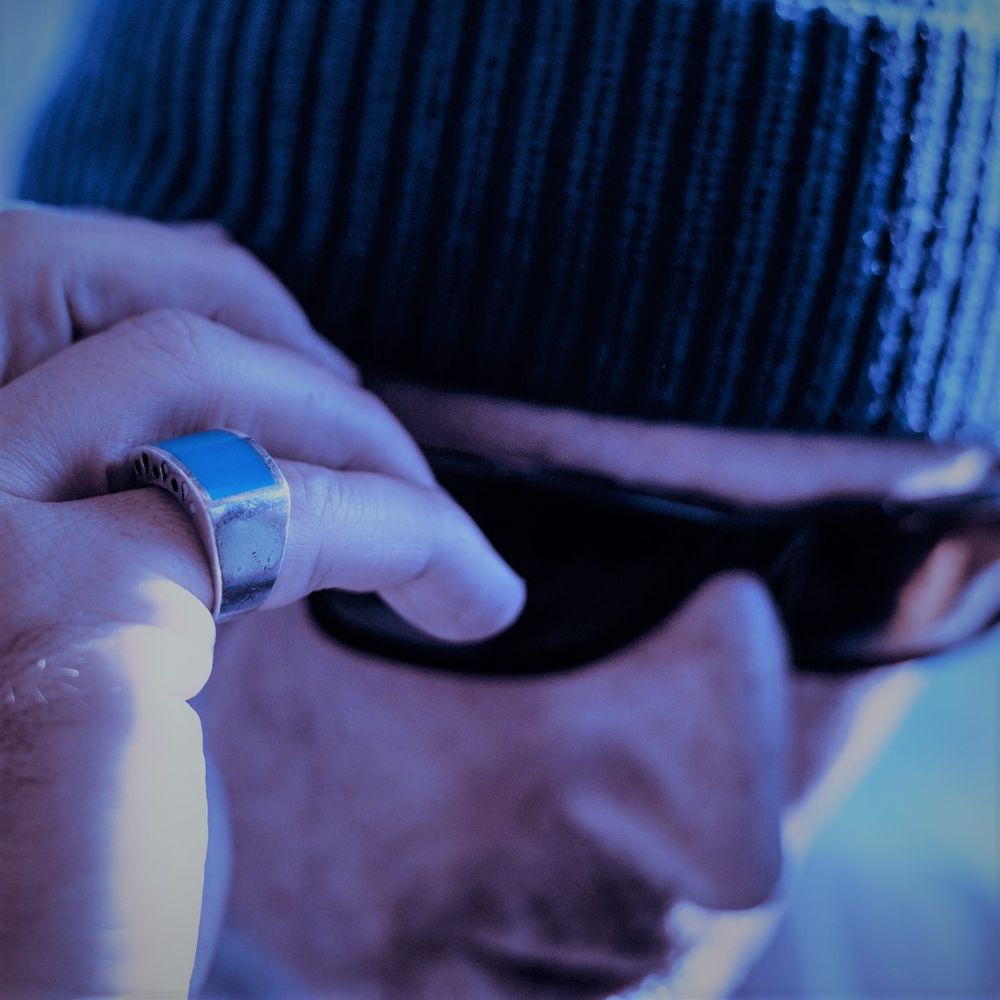 WHO IS TENOR BLUE?
"The race is not for the swift, but the one who endureth it"
-Dennis Emmanuel Brown 
The story of Tenor Blue is a testament to the power of music and the spirit of those who refuse to give up on a dream.  This chapter in the life of Tenor Blue is not the first in a quest to find a career as an artist in the elusive music industry.  Talent has never been the question with Tenor Blue, but the stumbling blocks that he has faced have come from within and the many obstacles that life presents us all.  As a singer-songwriter and artist who is constantly in search of new adventures and brighter horizons, the book on Tenor Blue is one that continues to be written.
Tenor Blue was raised in the storied Haight-Ashbury district of San Francisco, home to the historic "Summer of Love" and a gathering place for many of the most renowned acts in Rock and Roll including Sly & The Family Stone, The Grateful Dead, Jefferson Airplane, Janis Joplin and Jimi Hendrix.  Growing up in the heart of San Francisco meant an introduction into a world with few boundaries and exposure to a wide variety of music and cultures.  
From his earliest years Tenor remembers a deep connection to music and an emotional stirring of his heart that only his favorite music could awaken. "There were so many nights as a kid I would stay up late playing my favorite Michael Jackson, Stevie Wonder or Earth, Wind and Fire records over and over, lost in the beauty of the music. It touched something in me, a longing for something greater, more beautiful and exciting than the normal world offered.  I would envision myself on stage singing in front of a large crowd or lost in love with some beautiful girl and dream of life's possibilities."
While Tenor was naturally drawn to R&B and Soul music as a child, it was in his teenage years that he began to seriously embrace jazz, rock and roll, international music and most of all reggae. This breadth of musical influences has found its way into the fabric of his creative inspiration and have helped him to form a sound that pushes the boundaries of reggae music, melding it seamlessly with other genres. But the common denominators that run through all of Tenor Blue's music are the honesty of his lyrical content and the warm, inviting tone of his vocals that make each song unmistakably his own.
Tenor Blue's journey has led him from his hometown of San Francisco to Los Angeles, where he first began his songwriting and recording journey and was signed to a recording contract under PMP/Loud/RCA Records.  After recording the majority of an album that never got released, Tenor moved back home to San Francisco and then to South Florida where he spent the last decade writing and recording with many Grammy-nominated and Grammy-winning producers. He recently relocated to Atlanta, GA where he now resides and continues his musical journey.  Through all these phases of life one thing has remained consistent--a deep seated and burning desire to write and create music.  Through success and struggle, ups and downs, the creative drive has always been there.  Every phase, every chapter of life for Tenor brings opportunities to express himself and share something  of value with the world through the power of word and sound. 
Over the years Tenor Blue has shared the stage with some of the biggest names in reggae history including Gregory Isaacs, Frankie Paul, John Holt, Barrington Levy and many others.  With his sweet vocals, stage presence, knowledge of reggae music and palpable authenticity, Tenor Blue is that rare white reggae artist that even hard core Jamaican audiences embrace with open arms. 
Through all the years, despite obstacles, setbacks and times when it didn't seem to make sense to continue forward, Tenor Blue has forged ahead knowing that, for him, to stop making music would mean stop living, to stop fighting, to stop dreaming. So after a lifetime writing hundreds of songs, a record contract, and countless recordings, Tenor Blue is now releasing his debut EP project entitled "Shades of Blue" under his own label Blue Life Records.  
On this project Tenor has collaborated with a variety of producers including the 2-time Grammy winning J-Vibe Productions, Grammy-nominated Heddrokk Productions, Mantra and others.  Features include Paul Anthony, a South Florida reggae icon, and Peetah Morgan, lead vocalist of the Grammy-award winning reggae band Morgan Heritage. This project has been several years in the making and a true labor of blood, sweat, tears and love. With a clear reggae root, "Shades of Blue" offers listeners the many facets of Tenor's sound, lyrical themes and clear influences from genres such as Pop, Afro Beat, R&B and Hip-Hop that from one song to another are bound to resonate with any genuine fan of music.